John Bevacqua, M.Ed.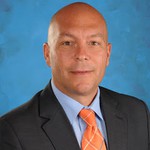 For the past 19 years, Johnny Bevacqua has been a teacher, vice-principal, principal and associate superintendent.
Johnny is currently Principal of Vancouver College, a K-12 Catholic school in Vancouver.
While he was Principal of St. Patrick Regional Secondary in Vancouver, the school was featured in two BC Ministry of Education videos: Learning Empowered by Technology and Personalized Learning, Flexibility & Choice.
Through his blog Figuring It Out, Mr. Bevacqua has been able to reflect upon, define and articulate his educational philosophy and vision. As school is being redefined in the 21st Century, Mr. Bevacqua is dedicated to promoting proven and emerging teaching practices that honour the uniqueness and giftedness of each student. Mr. Bevacqua views technology and social media as tools that can and will continue to enhance learning. Mr. Bevacqua has led a team that has been instrumental in moving towards holistic assessment practices and a renewed commitment to literacy – all supported by a personalized professional development plan for teachers.
Students continue to be a source of inspiration and motivation for Mr. Bevacqua. He views parents as students' first educators and is humbly grateful to them for entrusting their children to his care. Mr. Bevacqua feels strongly that living and learning in community is "life giving", that relationships matter and that an "Ethos of Us" should be cherished in schools.
Most importantly, his biggest sources of inspiration are his three daughters and his incredibly supportive wife.
Degrees:
M.A. (Royal Roads University, 2003)
B.Ed. (University of British Columbia, 1995)
B.A. in History (University of British Columbia, 1992)