Dr. Shawn Flynn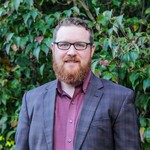 Title: Assistant Professor of Religion and Theology; Director of Theology Programs (sflynn@stmarkscollege.ca)
Discipline Hebrew Bible/Old Testament, Scripture, Religious Studies, Theology
Dr. Flynn's broad area of research focuses on the formation of Israelite beliefs during the Iron Age (1200-586 BCE). He employs a comparative analysis between the Hebrew Bible and its larger cultural matrix, primarily Mesopotamia, to explore emerging and shifting ideas of divinity. These shifts are influenced by a variety of interdisciplinary factors like political, religious, economic and military pressures experienced by ancient people. Flynn thus specializes in the Old Testament/Hebrew Bible and its relationship to its ancient world and supports this study with training in Egyptology and Assyriology.
Dr. Flynn has published his first monograph with Brill on developments in the Israelite expression of God as king. He is also working on two current book projects: one on children in the Bible and the ancient world with Oxford University Press and another on the historical circumstances that lead to certain expressions of divinity for Routledge.
He also has articles in peer-reviewed journals such as: Catholic Biblical Quarterly, Biblica, and Irish Theological Quarterly. In his field he has also contributed to 12 dictionary entries as well as 16 book reviews.
Dr. Flynn also gives attention to critical scholarship's incorporation into Catholic biblical interpretation. He also serves on a variety of ecumenical and inter-religious dialogue committees. He maintains an active popular speaking schedule for teachers, professionals, various religious traditions, as well as for the formation of lay, clergy, and religious.
Dr. Flynn studied English Literature at UNBC, Biblical Studies at TWU, and began doctoral work at Trinity College Dublin, completing a PhD at the University of Toronto in the department of Near and Middle Eastern Civilizations. He was also a researcher in residence at the École biblique et archéologique française de Jérusalem. Shawn was born in British Columbia, and lives in Vancouver with his wife and their four children under ten years old.
Books
YHWH is King: The Development of Divine Kingship in Ancient Israel. Vetus Testamentum Supplements 159; Leiden: Brill, 2014.
A Child's Life: Ancient Israelite Children in Comparative Perspective. Oxford: Oxford University Press, 2017. (book under contract)
A Story of YHWH: Cultural Translation and Subversive Reception through Israelite History. Studies in the History of the Ancient Near East; Ed. Greg Fisher; Routledge, 2017 (book under contract)
Selected Peer-Reviewed Articles
"The Hope of Catholic Biblical Interpretation: Progress and Gaps in the Manifestation of Scripture Since Vatican II." New Blackfriars 1062 (2015):
"The Teraphim in Light of Mesopotamian and Egyptian Evidence." Catholic Biblical Quarterly 74.4 (2012): 694-711.
"Inescapable Perspective and David's Sin in 2 Samuel 11-12." Irish Theological Quarterly 77.3 (2012): 182-196.
"Where is YHWH in Isaiah 57, 14-15?" Biblica 87.3 (2006): 358-370.
Recent Book Reviews
In progress, Debra Scoggins Ballentine, The Conflict Myth and the Biblical Tradition. New York: Oxford University Press, 2015. Journal of Religion (2016)
In progress, Christopher B. Hays, Hidden Riches: A Textbook for the Comparative Study of the Old Testament and the Ancient Near East. Westminster John Knox, 2014. Catholic Biblical Quarterly (2015).
Forthcoming, Corrine L. Carvalho (ed.) Pastoral Essays in Honor of Lawrence Boadt, CSP: Reading the Old Testament. Mawah NJ: Paulist Press, 2013. Review of Biblical Literature 2015.
Kristine Garroway, Children in the Ancient Near Eastern Household. EANEC 3; Winona Lake, IN: Eisenbrauns, 2014. Catholic Biblical Quarterly 77:3 (2015): 528-30.
David S. Vanderhooft and Abraham Winitzer (eds.) Literature as Politics, Politics as Literature: Essays on the Ancient Near East in Honor of Peter Machinist Winona Lake, IN: Eisenbrauns, 2013. Review of Biblical Literature 2015. http://www.bookreviews.org/pdf/9577_10594.pdf
Education
2007- 2012 University of Toronto PhD Hebrew Bible and Ancient Near Eastern Studies Department of Near and Middle Eastern Civilizations
2006-2007 Trinity College Dublin 
PhD Studies, Hebrew Bible School of Religions and Theology
2002-2005 Trinity Western University M.A. Biblical Studies (Distinction) Department of Biblical Studies
1997-2002 B.A. English Literature, University of Northern British Columbia 
Prince George, Canada.
Professional Societies
2008- present Catholic Biblical Association (Active Member since 2008); 2008- present Canadian Society of Biblical Studies; 
2004- present Society of Biblical Literature; 
2006-2007 Irish Biblical Association