Sheila D'Souza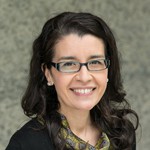 Sheila D'Souza teaches HIST 401 at St Mark's College, an introduction to modern East Asia. After completing her undergraduate degree in Political Science and History at Simon Fraser University, she moved to Japan to teach English. She stayed for 5 years and developed an intense interest in Japanese and Korean politics, history and culture. This brought her to graduate school at Sogang University in Seoul, South Korea where she specialized in East Asian studies with a particular focus on Japanese-Korean post-war relations. Despite their proximity, the two countries are fascinatingly different, and this lead her to focus her studies on how postcolonial nations took a different trajectory in developing and modernizing in comparison to Western countries. Sheila completed her studies at Oxford in 2008, where she pursued further research into the development of postcolonial nationalism and identity in East Asia.
Her areas of interest are nationalism, international relations and using postmodernist theory to approach an understanding of non-western history.
Sheila has many years of teaching experience, both in Canada and abroad. She thoroughly enjoyed teaching at St. Mark's College in 2016 and is looking forward to teaching HIST 401 in 2019.
Education
MSc Modern Japanese Studies: University of Oxford, England (2008)
MA East Asian Studies: Sogang University, Korea (2007)
BA Political Science & History: Simon Fraser University, Canada (1998)