Kevin Beliveau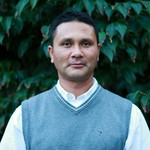 Kevin Beliveau has been teaching History, English, and Religious Studies for twenty-four years in the Archdiocese of Vancouver after finishing undergraduate work at both the University of Victoria and Saint Francis Xavier University in Nova Scotia.
Returning to the University of British Columbia after ten years in the classroom, he finished my M.A. with a focus on History, particularly Canadian and B.C. History, Indigenous Relations, Educational History, and Church History in North America.
Kevin is the Campus Ministry Department Chair at Vancouver College where he currently teaches and leads various liturgical, retreat, and service ministries.
Degrees:
M.A. in Educational Studies, History; University of British Columbia
B.Ed. Secondary Studies, Social Studies; Saint Francis Xavier University
B.A. in History; Saint Francis Xavier University
B.A. in History; University of Victoria
Thesis:
Belief, Bulldozers, and Beans: Bishop John Fergus O'Grady and Prince George College: Catholic, Aboriginal Education in Northern Canada.