Florence Allaye-Chan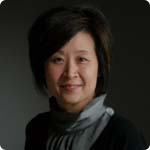 Title: Coordinator of Advancement
Phone Numbers:

604.822.6862 ext 119
778-885-1318
After an 11-year stint as full-time mother, Florence joined the College in 2007 as Executive Assistant to the President. In 2009, Florence moved to the Advancement/Development Office, bringing her previous professional experience and training to a full circle.
Prior to starting a family, Florence was on a management career track in a major Canadian bank. She worked as account manager, both in the retail and commercial market sectors, where she managed a substantial lending and investment portfolio. There, she honed her skills on the art of relationship-building and management. Her current role utilizes these skills.
Her two daughters and their love for sports (especially soccer) and the outdoors keep Florence and her husband, Orson, on the move. In her spare time, Florence enjoys a run along the dyke and a good tennis match, both as participant and spectator.
Florence welcomes your questions and comments and can be reached directly at 778-885-1318.
Degrees: BA
Email: fchan@corpuschristi.ca