Dr. Peter Meehan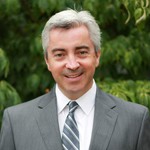 Dr. Peter Meehan is the President and Vice Chancellor of St. Mark's College, (President and Vice Chancellor of Corpus Christi College) the affiliated Catholic college of the University of British Columbia. A native of Toronto, Ontario, he holds advanced degrees in History and Education from the University of Toronto. His doctoral dissertation at the University of Toronto, "'Something Beyond Religion' – The Catholic Taxpayer's Association and the Ontario School Tax Question: A Study of Catholic Action in Education," explored relationships between church and state in 1930s Ontario in response to the Province's age-old "school tax question."
Following his early experience as a high school teacher, Dr. Meehan joined the School of General Education at Seneca College in Toronto, where he taught Canadian History and Humanities. He later served as Chair of Seneca's School of Liberal Arts and Academic Partnerships and as Dean of the Faculty of Academic Quality and University Partnerships. During this time he also taught as an adjunct professor in the Toronto School of Theology at the University of Toronto.
Dr. Meehan is a past president of the Canadian Catholic Historical Association (2010-2012), and for five years he served as Editor of the refereed journal Historical Studies (2002-2007). Presently, he is completing work on the biography of former Toronto Archbishop Philip Pocock, tentatively titled "To Know God and to Make God Known: The Life of Philip Francis Pocock, Seventh Archbishop of Toronto". This project has been commissioned by the Archdiocese of Toronto.
Dr. Meehan and his wife Laura have four children: Peter Edward, Bridget, Claire and Rory.
Email: pmeehan@corpuschristi.ca