Rev. Ross Lockhart, PhD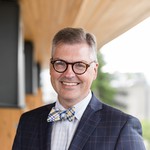 Rev. Dr. Ross A. Lockhart is Dean of St. Andrew's Hall. An Ordained Minister of Word and Sacraments in the Presbyterian Church in Canada, Ross preaches regularly across Canada and teaches courses in homiletics, mission and evangelism.
Degrees:
PhD (Vrije Universiteit, Amsterdam, 2022)
D.Min. in Homiletics (McCormick Seminary, University of Chicago, 2009)
M.Div. (University of Toronto, 2003)
B.A. Honours in History (University of Winnipeg, 1999)
Select Publications:
"Christian Witness in Post-Christian Soil: Coworkers with God in the Land of Hiking, Hipsters and Hand-Crafted Lattes." Ross A. Lockhart, ed. Eugene: Cascade, 2021. "Better Than Brunch: Missional Churches in Cascadia." Co-authored with Jason Byassee. Eugene: Cascade, 2020. "Beyond Snakes and Shamrocks: St. Patrick's Missional Leadership Lessons for Today." Eugene: Cascade Books, 2018. "Lessons from Laodicea: Missional Leadership in a Culture of Affluence" Eugene: Cascade Books, 2016.
Professional Societies:
Academy of Homiletics

Presbytery of Westminster