Dr. Sarika Bose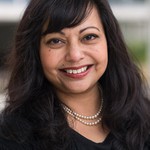 Dr. Bose completed doctoral studies on Victorian Theatre and Oscar Wilde at the University of Birmingham in England and has been teaching in the University of British Columbia's (UBC) Department of English Language and Literatures since 1999.
Her teaching interests include Victorian Drama and Novel, Children's Literature (especially British) and general drama. Dr. Bose's recent interests in Victorian literature and culture have been in exploring how Victorian writers of fiction and drama responded to new scientific discoveries and new encounters with people in countries with unfamiliar cultures.
Dr. Bose is very excited to be teaching at Corpus Christi-St. Mark's and enjoys having the chance to explore literary questions in small classes.
Education
B.A. (1986) in English, University of British Columbia
M.A. (1989) in English, University of British Columbia
Ph.D. in English (1999), University of Birmingham, England
Forthcoming Publications
"Invisibility, Marginalization, Injustice, Dehumanization: Precariousness in the Academy". Racial Injustice in the Canadian University (tentative title). Ed. Sunera Thobani. University of Toronto Press, 2019.
"Academic Freedom, Citizenship, and DeProfessionalization." Conference Proceedings, Ed. David Robinson. Harry Crowe Foundation/CAUT, Ottawa.
"The Invisible Academic: the Erasure of the Academic as Professional in the Corporate Academy." Conference Proceedings. Ed. Steven Weber.
Selected Publications
" 'Multi-Cultural": Straddling Continents, Straddling Identities'." Alternate Routes: A Journal of Critical Social Research. Ed. Habiba Zaman. 2019.
Dion Boucicault. The Octoroon. Ed. with Introduction. Sarika Bose. Broadview 2014.
Candravati: A Woman's Ramayana. Ed. and Transl. Mandakranta Bose and Sarika P. Bose. Routledge. 2013.
Wyrick, Jean and Sarika P. Bose Steps to Writing Well. 1st Canadian Edition. Toronto: Thomson Nelson, 2010.
"For Their Native Sisters: The Wesleyan Ladies' Auxiliary in India." In Faces of the Feminine in Early, Medieval and Modern Times, ed. Mandakranta Bose. New York: Oxford University Press, 2000.
"The New Woman in the 1890s," Journal of the English Department, Calcutta University, 2005.