Rev. Dr. Axel Schoeber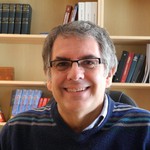 Axel was raised in Vancouver and attended UBC. He taught grade 5 in Lillooet, BC.
Axel studied at Regent College, with a thesis on Paul's opponents in Colossae. He was a pastor in Baptist churches in Jasper and Calgary, Penticton, Victoria, and West Vancouver, and currently serves as an interim pastor at Emmanuel Baptist Church in Victoria. He has worked in United and Presbyterian churches as well. His DMin was in disciplemaking. Axel completed his PhD dissertation on a little-known French Catholic bishop, Gérard Roussel, who was sympathetic to Protestant concerns during the sixteenth century but would not separate from the Catholic church. He was a professor of Supervised Ministry at Carey Theological College for 8 years, teaching all his courses online. He has taught in Guatemala, Indonesia, Kenya, and the Vancouver School of Theology (Reformation History). In addition, Axel coached youth soccer at the provincial level for 4 years.
Curious students are a joy of his—almost as much as his 5 grandchildren! Axel looks forward to examining the dynamic story of the church in the ancient and early medieval period to ask ourselves what we can learn about life and faith in the twenty-first century.
Education
BEd (Elem), Dip. Christian Studies, MDiv, ThM, DMin, MA (History), PhD (History)
Publications
'"Christian Society": A More Influential Concept Than Often Understood?' in Illumine: The Journal of the Centre for Studies in Religion and Society Graduate Student Association, v. 6, no. 1 (2007), pp. 16-22. (Online version: www.csrs.uvic.ca)
'John Calvin and the "Still-born" Third Option in the French Reformation,' in Calvin@500: Theology, History, and Practice, Richard R. Topping and John A. Vissers, ed. (Eugene, Oregon: Pickwick, 2011), pp. 86-97.
"Making Space for Online Students to Create Relevancy from Course Content for their Contexts" in Reflective Practice 36, pp. 63-77 (June 2016). (Online: http://journals.sfu.ca/rpfs/index.php/rpfs/article/view/425/412)
"Shaped Digitally." A paper on formation in online education. Theological Education, 50, no. 2 (2017), pp. 169-182.
"Mentoring in Online Media," in Mentoring: A Toolkit for Supervisor/Mentors in Theological Field Education, John Senior and Matthew Floding, ed. (Lanham, Maryland: Rowman & Littlefield, 2021).
Oral publications and invited seminar papers
Terminological Muddle—and a Way Out: Reflections on the Early Reformation in France, Graduate Students Workshop, University of Victoria, October 6, 2005.
The Circle of Meaux: Reformers and Schismatics in 1520s France, Qualicum, B. C., January 28, 2006.
Truth Ain't What It Used to Be, Community Lecture Series, Emmanuel Baptist Church, Victoria, B. C., March 14, 2006.
Melanchthon and Bucer: Compromisers or Peacemakers? Public Lecture Series, Centre for Studies in Religion and Society, University of Victoria, November 22, 2006.
Calvin and the "Still-born" Third Option in the French Reformation. Calvin @ 500 Conference, St. Andrew's Hall, Vancouver School of Theology, September 26, 2009.
Gérard Roussel—French Evangelical Dissenter (Or not . . .?) Society for Reformation Studies conference, Westminster College, Cambridge, England, April 12, 2012.
Digital Connection: Personalizing and Building Community in Online Supervised Ministry, Association of Theological Field Educators, Santa Fe, New Mexico, January 23, 2015.
Deliberate Ambiguity: Gerard Roussel's Language concerning the Eucharist. Sixteenth Century Conference, Vancouver, B.C., October 23, 2015.
Muted Mission: An Interpretive Historical Essay on the Impact of Baptists in Western Canada. Baptist Heritage and Identity Commission, Baptist World Alliance, Vancouver, B.C., July 6, 2016.
Presentation on an approach to educational philosophy that can undergird online education, Peer Group on the Values of Online Education, Association of Theological Schools, Chicago, October 7, 2016.
"Online Supervised Ministry as a Community of Inquiry: Sharing our Ideas." Association of Theological Field Educators, St. Paul, Minnesota, January 21, 2017.
Panel responder to Randall Zachmann, "When Should Christians Break Stuff?", Regent College, February 24, 2017.
"The Misuse and Use of Power for Christians." School of Mission, Hillside Baptist Church, North Vancouver, October 5, 2017, November 22, 2018.
"The Bible in our Leadership." School of Mission, Hillside Baptist Church, North Vancouver, February 28, 2019.
"How to Handle Opposition." School of Mission, Hillside Baptist Church, North Vancouver, May 16, 2019.
"And Keep Your Sense of Humour." Conference on "Christian Witness on Cascadian Soil," St. Andrews Hall, Vancouver, May 11, 2019. Reflections on one year of rapid church renewal involving congregational discernment.
"How to Write a Paper." 2009-2016, part of Carey's graduate studies orientation annually; the last three years included participants from Vancouver School of Theology and St. Mark's College.
"Advanced Research Methods in History," 2015-2018. Vancouver School of Theology 3-hour seminar, part of a credit course.