Pablo Irizar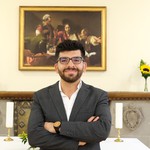 Born and raised in Mexico City, Dr. Irizar spent his teenage years in British Columbia and Alberta before coming to Quebec. He went on to pursue graduate studies in Philosophy and Religion in Belgium, Italy and France.
Dr. Irizar is a Adjunct Professor of Catholic Studies at the School of Religious Studies at McGill University in Montreal and Director of the Newman Centre of McGill University.
He has published numerous articles and has delivered conferences across Europe and North America. He is fluent in English, French, Spanish and Italian.
He specializes in Late Antiquity, the study of Patristics and particularly the life and work of Augustine of Hippo.